9) Splunk!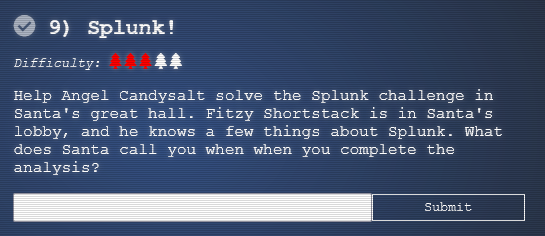 Details
Location: KringleCon/Great Room
Elf: Angel Candysalt
Objective Link 1: Link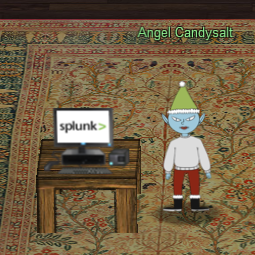 Elf's Objective Message
Greetings North Pole visitor! I'm Angel Candysalt! A euphemism? No, that's my name. Why do people ask me that? Anywho, I'm back at Santa's Splunk terminal again this year. There's always more to learn! Take a look and see what you can find this year. With who-knows-what going on next door, it never hurts to have sharp SIEM skills!
The terminal challenge for this objective is the terminal "Yara Analysis" offered by Fitzy Shortstack. Solving this terminal challenge provides additional hints for this objective. To view the hints use the menu on the left.
To start this objective click on the "splunk>" terminal next to Angel Candysalt. This challenge has 8 tasks that need to be completed. The walk-through for each task can be accessed bellow with the corresponding tab number.
---
Once you solve task 8 you see the following message: