6) Shellcode Primer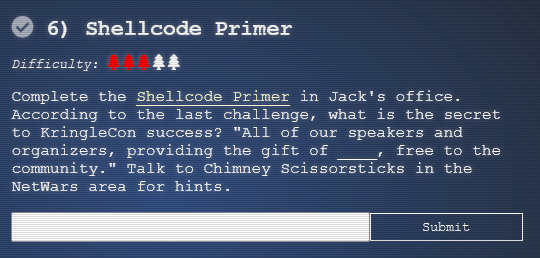 Details
Location: FrostFest/Jack's Office
Elf: Ruby Cyster
Objective Link 1: Link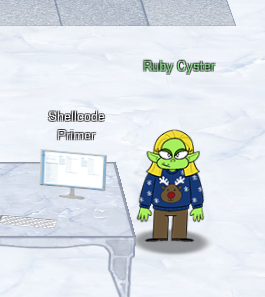 Troll's Objective Message
Hey, I'm Ruby Cyster. Don't listen to anything my sister, Ingreta, says about me.
So I'm looking at this system, and it has me a little bit worried. If I didn't know better, I'd say someone here is learning how to hack North Pole systems. Who's got that kind of nerve! Anyway, I hear some elf on the other roof knows a bit about this type of thing. Oh man - what is this all about? Great work though. So first things first, you should definitely take a look at the firmware. With that in-hand, you can pick it apart and see what's there. Did you know that if you append multiple files of that type, the last one is processed? Have you heard of Hash Extension Attacks? If something isn't working, be sure to check the output! The error messages are very verbose. Everything else accomplished, you just might be able to get shell access to that dusty old thing!
The terminal challenge for this objective is the "Holiday Hero" terminal offered by Chimney Scissorsticks. Solving this terminal challenge provides additional hints for this objective. To view the hints use the menu on the left.
To start this objective click on the "Shellcode Primer" next to Ruby Cryster. There are 11 modules for this challenge. Follow the instructions and hints if you need to figure out each module.
The code for each module is displayed below:
The last challenge will print out the content of the file /var/northpolesecrets.txt. You get the following output from running the challenge: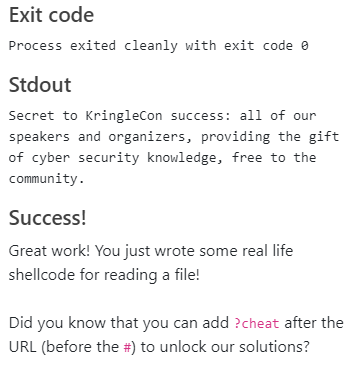 Answer
cyber security knowledge