Objective 3 - Point-of-Sale Password Recovery¶
Objective¶

---
In the "Courtyard" of Santa's Castle, you will find Sugarplum Mary. Sugarplum Mary is standing next to the "Santa shop" Objective and terminal "Linux Primer".
---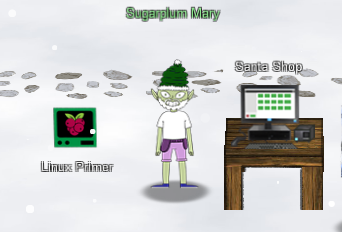 ---
Walk-through¶
The terminal challenge for this objective is the "Linux Primer". Solving this terminal challenge provides additional hints for this objective. To view the hints or the walk-through for this terminal challenge, use the menu on the left.
To start this objective click on the "Santa Shop". A console will popup, which allows you to download an offline version of the Point-of-Sale software to inspect.
---
---
Use 7-zip software to extract the downloaded installation file.
---

---
Inside "$PLUGINSDIR" there is a app-64.7z file that is compressed. Extract this file using 7-zip software. Examine the extracted contents of this file. There is a file called app.asar located inside the app-64/resources/ folder.
---

---
Open this file an editor of your choice and search for password.
---


---
Answer¶
The supervisor password for the point-of-sale terminal is santapass.